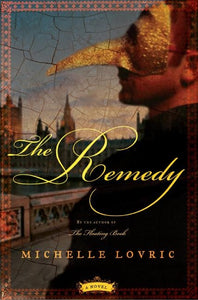 Harper Collins Publishers
The Remedy
Regular price
$20.00
$0.00
Unit price
per
In this darkly beautiful and hauntingly vivid novel, Michelle Lovric, acclaimed author of The Floating Book, embarks on an unforgettable journey through the winding alleys and shadowy streets of eighteenth-century Venice and London. With vibrant prose, she weaves together the stories of three disparate yet intertwined characters who find themselves embroiled in a world of murder and secrets. There is Mimosina Dolcezza, the Venetian actress employed as an agente provocatrice by surreptitious European power brokers. By fortune and circumstance, she begins an affair with the elusive Valentine Greatrakes, a roguish fixture within London's medical underworld. Complicating matters for the pair is the presence of the eccentric and strange child-woman Pevenche, a figure whose fate and identity lie at the heart of the book's mystery.
Following this shadowy group from the dark environs of London's Bankside to the lively streets of Venice, The Remedy guides us through playhouses, brothels, and convents with luscious details that breathe intoxicating life into the era. Long-listed for the prestigious Orange Prize for Fiction, The Remedy is a seductive and suspenseful tale that stays with you long after you've turned the final page.
Life in Jeneral offers a holistic approach to organization; once we understand what we want from our spaces--how they can nurture and support our emotional well-being--we can create a home that feels both practical and joyful.
---